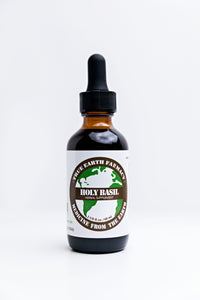 Use: Spirit Nourishing/Adaptogen
Holy Basil – 
Tulasi
/
Tulsi
 has been used for thousands of years
and is native to India and considered to be a sacred plant. 
Tulsi
contains many beneficial components such as vitamin C, A,
calcium, zinc, iron, chlorophyll, eugenol, 
rosmarinic
 acid,
apigenin
, carotenoids, 
triterpen
oi
c
 acids and many more
phytochemicals that have been found to increase antioxidant
activities. In A
yurvedic medicine it is used for strengthening
the respiratory 
and nervous 
system, heart health, and the
stress response by increasing adaptive energy enhancing
physical and mental endurance by improving oxygenation in
the bloodstream. Holy Basil may 
help with grief and fear by
gently stimulating the mind, body and spirit. *
Precaution: Contains alcohol. If pregnant or nursing, consult a qualified
healthcare practi
ti
oner before use.
*
FDA has not evaluated this product for safety or efficacy.
 This product is not intended to
diagnose, treat, cure or prevent disease.