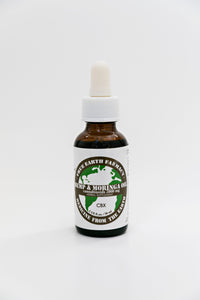 (Cannabis sativa) 
Use: Allostatic modulator
The true Indian hemp plant grows in the high altitudes of the Himalayan mountains. It is now cultivated all over North America. The seeds have an amazingly rich content of omega 3 and omega 6 fatty acids in a perfectly balanced ratio. Studies show that hemp seed extract may have many benefits such as antioxidant activity, help with occasional nausea, and support the health of nerve, muscle, and brain. Hemp leaves and flowers are rich in phytocannabinoids and can help modulate the allostatic balance of our endocannabinoid system. The human endocannabinoid system is involved in mood, appetite, and immune regulation – all areas where hemp shows promise. Additionally, hemp may help support a normal inflammatory response following exercise or exertion and can act as an antioxidant for the brain and central nervous system to support healthy nerve function.
 MORINGA (Moringa oleifera)
Use: Homeostatic and nutritive tonic
The Moringa plant may be considered a super food and has been medicinally used as a food source for over 4000 years. Its history of use dates back to ancient India, Rome, Greece and Egypt. The whole plant contains many vitamins, phytonutrients, active antioxidants, anti-inflammatory constituents, all eight essential amino acids, zinc and iron which may support energy levels and the normal delivery of oxygen to muscles, organs and tissues. Moringa oil is a light-colored oil harvested from the seeds contained in the long pods of the flowering Moringa tree. Moringa oil contains high amounts of monounsaturated fatty acids, primarily oleic acid. It also contains numerous sterols, predominately beta-sitosterol which may be helpful in maintaining healthy cholesterol levels in a normal range. Some studies have suggested an ability to maintain a healthy blood glucose when the levels are already normal. Moringa oil is also rich in vitamins A, C and E. Moringa oil has been used traditionally, both externally to moisturize and protect skin and hair and internally to support cardiovascular function, boost and protect liver function, to detoxify the body of toxic substances, and to improve digestive health and function.
Ingredients: Proprietary herbal blend containing Certified Organic MCT oil (coconut source). Hemp (Cannabis sativa) broad-spectrum extract, Organic Moringa (Moringa oleifera) seed oil,   
Precautions:  Consult a health care provider before using.  Do not use during pregnancy or breastfeeding. 
FDA has not evaluated this product for safety or efficacy. This product is not intended to diagnose, treat, cure or prevent disease. 
Contains no more than 0.3% THC